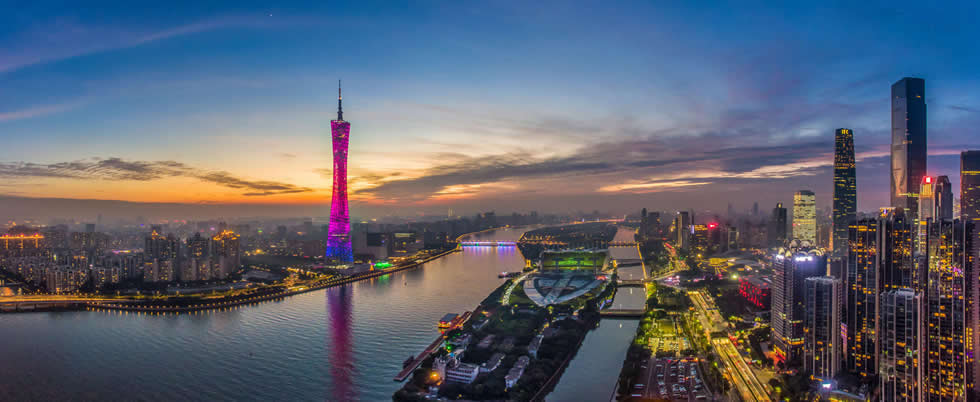 Guangzhou, the capital of Guangdong Province, is also known as Yangcheng and Flower City. It is a sub provincial city, a national central city, a megacity, a core city in Guangdong-Hong Kong-Macao Greater Bay Area, and an important central city, international trade center and comprehensive transportation hub in China approved by the State Council. The city governs 11 districts with a total area of 7434.40 square kilometers. In 2020, the permanent resident population of Guangzhou was 18,676,605.
Guangzhou is located in the south of China,the pearl river downstream, near the south China sea. It is the headquarters of the China Southern Theater Command, the national logistics hub, the national comprehensive gateway city, the international comprehensive transport hub, one of the first coastal open cities, the gateway to the world, the central city of Guangdong-Hong Kong-Macao Greater Bay Area, the central city of the Pan-pearl River Delta Economic Zone and the hub city of Belt and Road.
Guangzhou is one of the first national famous historical and cultural cities and the birthplace of Guangfu culture. Since the Qin Dynasty, Guangzhou has been the seat of county, prefecture and government, and the political, military, economic, cultural, scientific and educational center of South China. Since the third century AD, it has become the main port of the maritime Silk Road. In the Tang and Song Dynasties, it became the largest port in China and the world-famous Oriental port city. In the Ming and Qing Dynasties, it was the only foreign trade port in China and the only port in the world that has been prosperous for more than 2000 years.
Guangzhou has been rated as the world's first-tier city by the global authority, GaWC. The annual China Import and Export Commodities Fair attracts a large number of merchants, foreign-funded enterprises and the world's top 500 enterprises. In 2017, it ranked second in the Forbes List of Best Business Cities in Mainland China, ranked third in China's top 100 cities. In 2018, Guangzhou ranked first in The Human Development Index and third in the National Central City Index. By 2019, the total number of college students in Guangzhou had reached 1,139,600, ranking first in the country.
In 2020, Guangzhou achieved a regional GDP of 2501.911 billion yuan.